THE KEYLESS WORKS
Winding

---
CLICK ON A PART FOR MORE DETAIL
CLICK HERE FOR INFORMATION ON AUTOMATIC WINDING WATCHES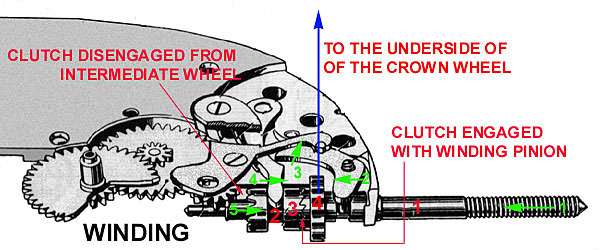 The positioning of the keyless-works parts for winding is shown in the green numbering. (1) The crown is pushed in, (2) the setting lever swings in, (3) the opposite end of the setting lever swings out allowing (4) the return lever to (5) slide the clutch into engagement with the winding pinion.

The red arrows show the power flow from (1) the stem, to (2) and (3) the clutch, to (4) the winding pinion, and then on to the

crown gear and mainspring barrel (blue arrow).

During hand setting, all parts move in the direction opposite the green arrows. This brings the clutch into contact with the intermediate wheel, which drives the

minute wheel, cannon pinion, and hour wheel.

The keyless works can be among the most beautiful parts of the mechanical watch. Click

here to see the keyless works of a contemporary Patek Philippe wristwatch caliber.


BACK TO THE GLOSSARY INDEX